A press operator is an important job function that plays a critical role in producing and delivering quality injection molded plastic parts. Press operator positions can also be a great launching pad for a career in plastics.

In this blog, we explain what it means to be a press operator, what skills they need, and who might be a good fit to apply for press operator roles.
What is a Press Operator?
A press operator runs the plastic injection molding machines used to make plastic parts, ensures the process is completed smoothly, and prepares each finished part for packaging. As the primary production machine operator in plastic molding, the press operator is vital to the entire process.

Consistency is key in this role. In addition to running the molding machines, press operators perform quality checks of finished parts, helping ensure components will function as intended. Press operators perform a visual inspection to check parts for conformance to specific quality standards. As part of their day-to-day work, the press operator will also collaborate with their shift supervisor and Quality Technician as issues arise with their equipment or product.

Compared to some manufacturing jobs, an injection molding facility is clean and safe. Steel-toed work boots are not generally required, and the most dangerous equipment a press operator is likely to use is a utility knife or Gate cutter.

Who is a Good Fit to Apply for a Press Operator Role?
A press operator role requires hard work, attention to detail, and a commitment to showing up for work on time five days a week. Press operators are at the core of any plastic injection molding shop, and production cannot go on without them! Plastic injection molding work needs to be consistent, and a press operator must stay focused on executing their production cycle properly each and every time. Rather than attempt to do things their own way, a successful press operator will be able to attentively follow instructions for repeated work processes.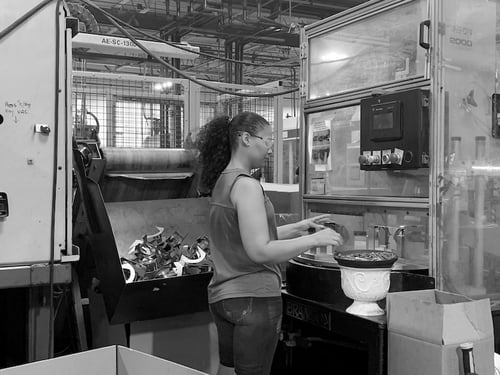 Because a press operator role does not require a specific educational background or job experience, it can be an outstanding way to start building a career in the plastics industry. At Molding Dynamics, for example, we provide the on-the-job training needed to get started, even with no prior experience in the plastics industry. While operating an injection molding machine is not dirty or exhausting, it does have some basic physical requirements, outlined below.

What are the Requirements for Working as a Press Operator?
Ability to follow instructions

Must be able to lift 35lbs.

Required to use basic hand tools (cutters, knives, trimmers, tape guns)

Must be able to bend, reach and stoop frequently during working hours

Must be able to stand for long periods of time



Do Press Operators Have Opportunities for Advancement?
The answer is yes! At Molding Dynamics, most employees in higher positions started out as press operators, including our supervisors. Press operator roles have been the foundation for many successful plastics industry careers, and they are a natural way to start learning your way around an injection molding operation. In addition to opportunities for promotion to different positions, we offer different tiers of press operator roles for those with the skills and experience needed to take on more difficult tasks with less supervision.

Example roles that a hardworking press operator may advance into include:

Quality Technician: test and inspect samples of products after the manufacturing process to ensure they meet quality standards.
Material Handler: transport maw materials and finished products throughout our production facility.
Mold Setter: sets up the plastic injection molding equipment and molds for the production department.

What to Look for When Applying for a Press Operator Position
Press operators are valuable manufacturing professionals and should be treated as such. We recommend looking for a press operator position that offers:
Fair pay and benefits.

A 401k program with company matching.

Paid vacation and holidays.

Promotional opportunities.

We are proud to say that Molding Dynamics delivers on all four of these benefits. Press operation can be repetitive work, and we also take care to perform job changeovers so that our operators are not performing the same task for months on end.

We take pride in offering good jobs and the unique combination of a growing company and a family atmosphere. Our company culture is rooted in loyalty, mutual respect, and dedication to delivering a quality product. We believe in promoting from within, and employees who show up, provide quality work, and contribute to our culture will have opportunities for advancement.

If our team, located in Bedford, Ohio, sounds like a fit, we encourage you to reach out! We love helping start new plastic industry careers and can provide all the training you need.
How to Apply to Be a Press Operator?
Molding Dynamics is hiring immediately! Demand for plastic parts is strong across a variety of different industries, we continue to experience outstanding growth, and we are looking for new hard-working colleagues who are ready to join the team.

Apply today at our page here.

Or, if you are interested in reading about other types of plastic injection molding jobs, and which one might be the best fit for you, check out our article here.